A lot of care was taken in designing the community to avoid the boring, monolithic look so common in high-rise buildings. Inside, I was greeted by an elegant but minimalist lobby with high ceilings, a distinctive central light installation and marble surfaces. A concierge is on duty here seven days a week to attend to the various needs of the residents.
The building, completed in 2019, includes 79 luxury apartments with one, two and three bedrooms, including a 332 square meter luxury penthouse with a balcony and private access to the roof. There are also so many shared rooms. The focus here is on lifestyle and community, and a lot of thought has been given to offering residents outlets and opportunities to meet and exchange ideas. (So ​​much so that it looked more like a stationary cruise ship than an apartment block!)
I toured a few of the three-room apartments, followed by a few two-bed and one-bed rooms. A neutral color palette has been used throughout, with natural materials such as marble countertops and backs, stone tiles, wooden floors and paneling, wool rugs, and linen curtains. Floor-to-ceiling windows maximize light and views, giving the illusion of a larger interior space; Double glazing keeps noise out; and a combination of sheer curtains and remote-controlled blinds provide additional privacy.
Decorated in neutral colors and natural materials, the apartments at The Grace Albert Park offer a peaceful and calming ambience. Source: The Grace Albert Park
The kitchens are stunning, with world-class Miele appliances and built-in fridges and dishwashers from Fisher & Paykel. Some of the larger apartments even have a butler sideboard and wine fridge! In fact, there is plenty of storage space even in the smaller apartments – something that Downsizers really appreciate. In general, all apartments appear to be larger Floor plans than most on the market. And each apartment has its own individual heating and cooling control to ensure comfort.
Each residence has a parking space in the secure underground car park and a storage cage with direct elevator access to their apartment floor.
For gardening enthusiasts, the complex offers indoor garden areas – unusual for a high-rise building – and residents can take a selection of herbs or small vegetables such as tomatoes or chilies with them for their own use.
The Roof terrace has spacious seating and a shared barbecue area, a TV and another garden with a sensational view of Albert Park Lake and the park landscape, Port Phillip Bay and the Melbourne skyline. There is also a kitchen for residents or caterers on the roof, and a clever glass screen prevents wind from spoiling the experience.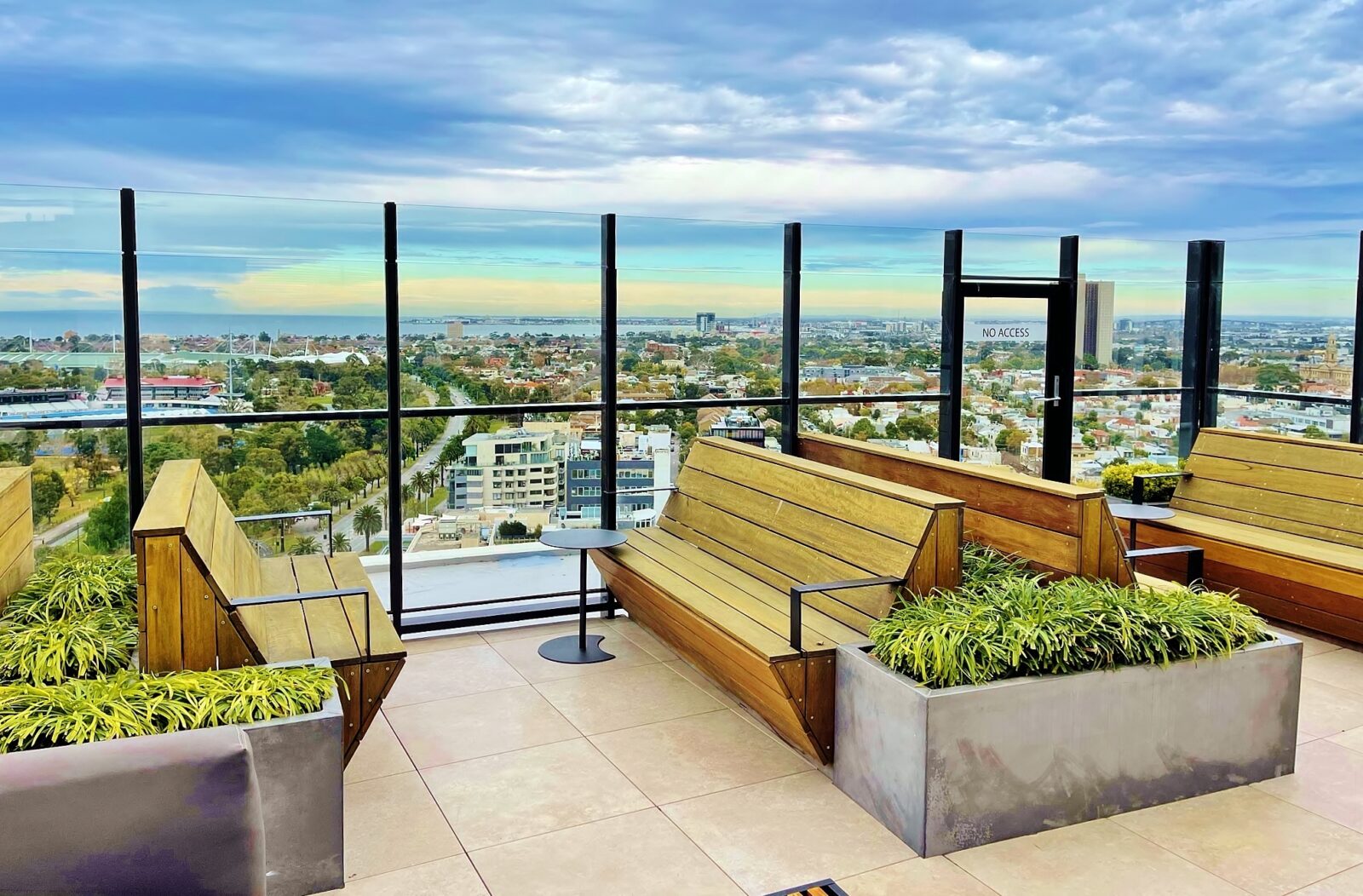 The shared roof terrace, the barbecue area, the garden and the kitchen at The Grace Albert Park are the perfect place to exchange ideas with other residents or to host family celebrations. Source: Liz Sier
Recreation rooms are an important feature on every other level. The entire second floor is dedicated to the common areas, such as a steam room, fitness room and heated indoor pool. There's even a 23-seat cinema-style theater. Movie nights are part of the social calendar and are often followed by dinner.
The piano lounge is another popular venue where a few residents give informal song evenings several times a week, as is the large communal dining room / lounge / bar with a coffee maker and papers delivered daily. The residents can share meals together from dishes that are prepared in their own apartment or in the large caterer kitchen. A private dining room with 12 seats is also available for bookings.
Other shared rooms include an artist's studio for painting, crafting, sewing, and other creative activities; an activity room for exercise classes; a discovery cave with resources for those who want to plan or discuss their trips; a game room with a variety of games; a philosopher's den for those who enjoy spirited conversations; and a library for those who like a quiet place with a wide range of books.
And just when you thought that the community no longer fits into common rooms, there is also a leisure room on the second basement floor with table tennis, table football and video / arcade games. This room would be great for grandchildren to visit!
A concierge available seven days a week and a general manager during on-site business hours enable residents to Access aids in communicating social needs such as restaurant reservations or theater tickets, everyday needs such as laundry or shopping as well as support for well-being. Guest speakers, cooking classes, and personalized training classes like aqua aerobics are offered regularly, and there's a book club, bike group, and hiking group. Several residents also regularly use the nearby Albert Park Golf Course.
Some activities are organized by Australian Unity since The grace is one of their senior citizens 'communities, others come from the residents' committee. Informal trips to the Rising Sun Pub around the corner and a train ride to Bendigo are planned for the near future. The Residents' Lounge is the place for happy hours twice a week and the occasional bring-a-plate evening.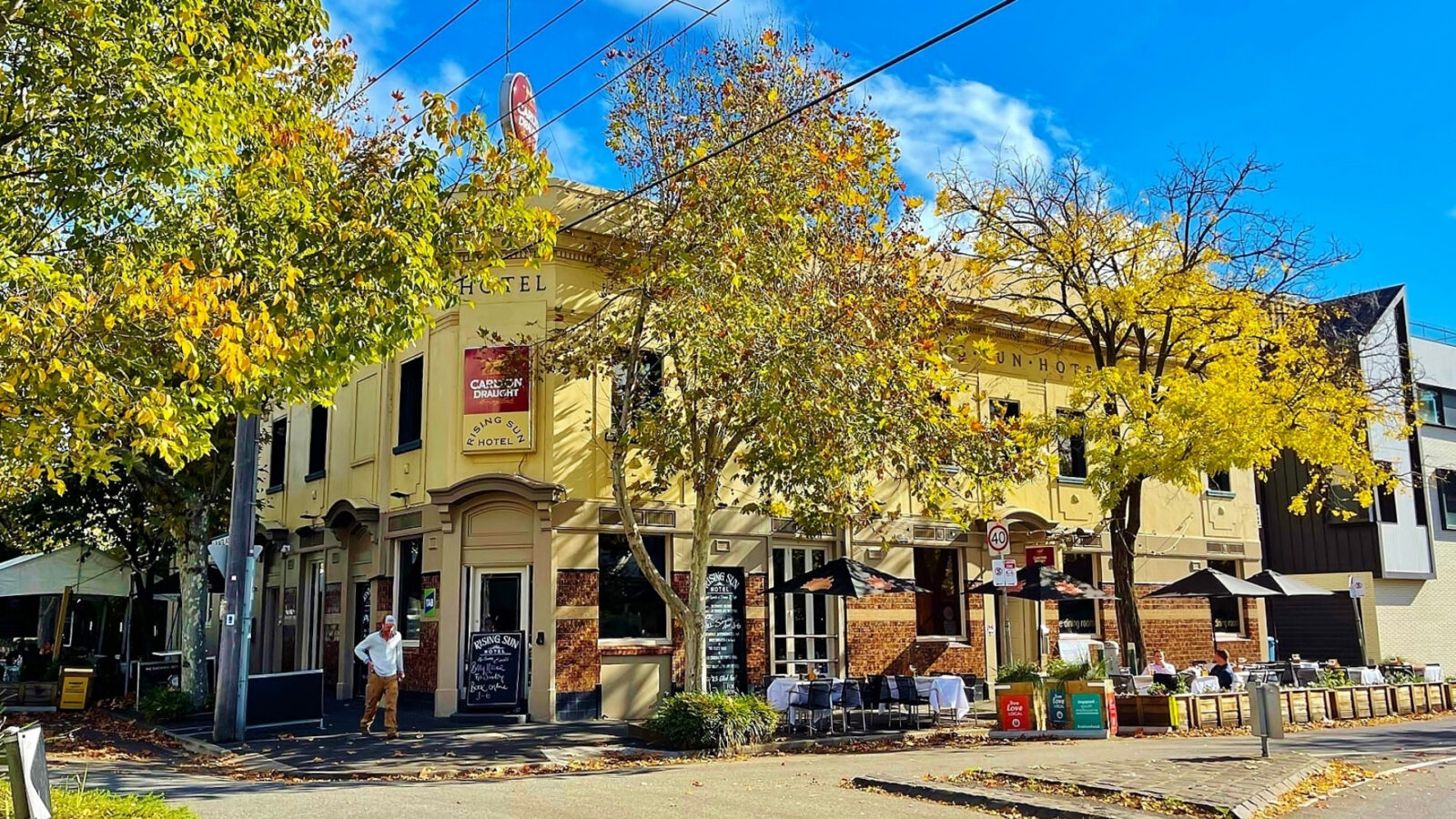 Regular trips to The Grace's eatery, the Rising Sun Pub, are just one of the activities organized by the Residents' Committee. Source: Liz Sier
A visit to the activity room that was hosting a Zoom yoga class gave me the opportunity to take part. Although the restrictions of Covid-19 made the zoom format mandatory, it also meant attendees could log into the course from their own privacy apartments, which was convenient. Yoga is offered twice a week, tailored to the ability of the participants. Weight training sessions are also available, offered by Australian Unity as part of their wellness program.
Mah Jong was the next event I saw. Fortunately, a group had already formed, as my playing time was still in distant memory. The ladies chatted amicably to the chirping of sparrows and the clatter of tiles and shared with me their great satisfaction with their new lifestyle.
This activity was soon followed by happy hour in the Residents' Lounge. At the time of my visit, The Grace wasn't fully booked and many of the residents – who are an active lot – were still out and about. Nonetheless, I felt very welcome with a dozen or so ladies.
Another benefit for residents of The grace is able to bring their pet. I was surprised and curious how that was organized – but there were no pollution or noise issues and being close to parks to exercise definitely helps.
Since The Grace is an Australian Unity project, the wellbeing of the residents is very important. The Grace offers consultation rooms for visiting healthcare professionals, while a Wellbeing Consultant is on site two days a week to help residents with an individual health plan if requested. Each apartment has a 24-hour emergency number so that either an external care team or a registered nurse can be reached if necessary.
The former Australian Unity building next door is currently being converted into assisted living and a nursing home with the aim of providing specialized accommodation not only for the wider community but as a "next step" for The Grace residents who need change. This is in addition to your "aging-in-place" comfort – for those who do not have to move.
The Grace's goal is to create an environment that fosters strong connections with like-minded residents. Those I spoke to found that this interaction had a positive impact on their wellbeing and created a strong sense of belonging from the start. Potential residents should note, however, that although this is a very social environment, there are all possibilities to simply relax in quiet seclusion and to socialize according to individual preferences.